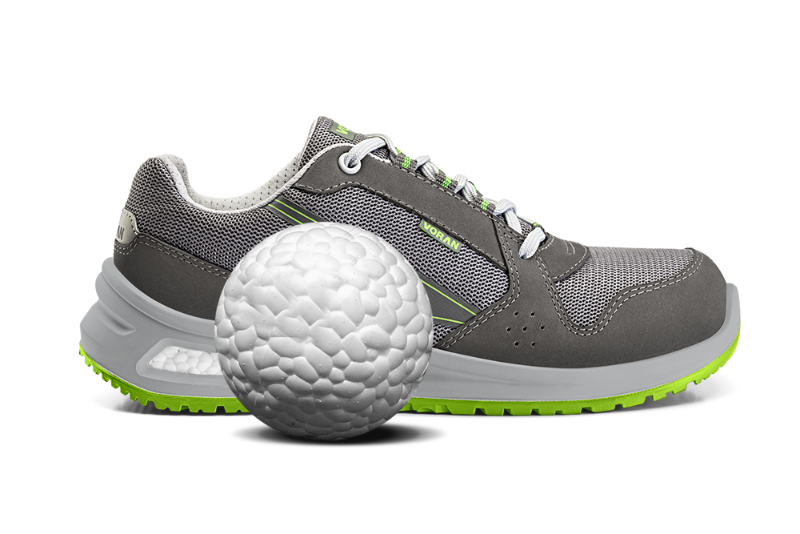 MADE WITH INFINERGY® BY BASF
Our Infinergy® by BASF midsoles have a core of closed-cell expanded thermoplastic polyurethane (E-TPU) particles that have high elasticity and durability. With over 55% energy return in every step, exceptional recuperation and cushioning, it provides additional freedom of movement and reduces fatigue.
INFINERGY® BY BASF GUARANTEES
• High elasticity
• Outstanding resiliency
• Flexibility and lightness
• Low density
• High tensile strength
• Excellent water resistance
• Resistance to temperature variation
• 55% higher rebound coefficient
"Infinergy®'s cushioning saves energy much better than a traditional sole, guaranteeing lightness, freedom of movement, fatigue reduction, and prevention of musculoskeletal disorders"
INFINERGY® STORES ENERGY TO RETURN
A concentration of technology that reinvents traditional cushioning–dynamic cushioning. Soft and dynamic cushioning that returns positive energy to the user. Energy is stored as the foot hits the ground and is returned through the sole as the foot lifts up, pushing the foot forward. Excellent long-term resilience even when exposed to constant stress. Unlike traditional foams, Infinergy® still retains its elastic memory whilst withstanding warmer temperatures of +40°C, or colder temperatures of -20°C.
01
ENDURANCE TEST
➜ Dynamic load 250kPa and 5 cycles/sec
➜ Sample thickness examination after 40.000 cycles
➜ E-PE: 22% (9mm)
➜ E-TPU: 93% (37mm) Dynamic test
DYBAMIC LOAD 1,5KN
➜ 35 ms to max force
➜ Sample thickness examination after 400.000 cycles
➜ EVA: 64% (16 mm)
➜ E-TPU: 88 % (21 mm)
02
CUSHIONING
1) Soft initial stiffness increase
2) Linear stiffness increase
3) Low progression.
PERFORMANCE TUNABLE BY
➜ Base material
➜ Expansion process
➜ Molding process
Comfort and Responsiveness